The Mas dels Frares experimental winery are essential to the way we teach enology. Nine kilometers from the URV's Sescelades Campus, where the Faculty is located, the URV leases 7 hectares of agricultural land where it grows different varieties of grape and makes wine.
Thanks to these installations, students can carry out fieldwork and put into practice their knowledge of vine cultivation and wine production. The winery is about 700 m2 and has a classroom to enable the integration of theoretical and practical knowledge, a laboratory where students can implement their practical skills and monitor and analyze the wine that they make and a bottling plant with manual and semiautomatic equipment.
In this manner, students can analyze key aspects affecting the vine, such as water stress and the use of controlled irrigation for different varieties of grape and, one the harvest is completed, how these and other questions affect the process of making wine.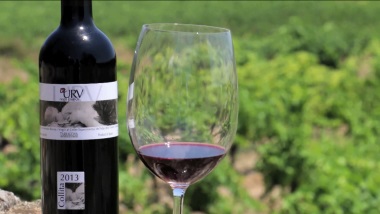 Each year we process up to 40,000 kg of grapes which produce about 30,000 liters of wine. We use most of this production for teaching (making the wines and monitoring their progress in the cellar is part of the training process), but some of it is used for research purposes.
The ampelographic collection at Mas dels Frares consists of almost seventy local varieties. Their enological potential and possible future uses are analyzed.